May 1, 2014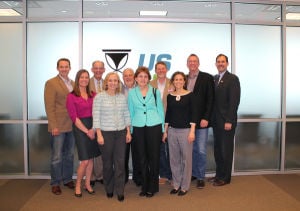 U.S. Silica recently hosted a number of visitors to show them its offices and talk about its success and expansion. 
At the offices at Riverside Research Park, U.S. Silica hired 23 employees last year, and a total of 148 employees in 2013 for all of its locations. The company moved to Frederick in 2011 to attract new and different talent to operate as a public company, said Alison Holder, company spokeswoman.
'It was a pleasure visiting with representatives from U.S. Silica to provide them with feedback and ideas about how to more deeply engage with the Frederick community," said Paul Frey, acting president of the Frederick County Chamber of Commerce, who was among the visitors.
The move allowed the firm, formerly in Berkeley Springs, W.Va., to draw from the Baltimore and Washington areas for new hires, as well as Frederick. The move still allows a relatively short commute to West Virginia to the company's original location.
"When global companies like U.S. Silica create a presence in Frederick, it reiterates the fact that our county is a dynamic and thriving community in which to work, live and recreate," Frey said. "The Frederick County Chamber of Commerce looks forward to working with organizations and companies like U.S. Silica to ensure that local businesses thrive by proactively reaching out to the communities where they do business."
In 2013, the company, which specializes in glass sand and related products, had total revenue of $546 million in 2013, compared with $441.9 million in 2012. Overall sales volume increased to 8.2 million tons, up nearly 14 percent from the previous year. 
The company has 18 locations, including Shanghai, China. The company dates to the late 1800s, when Henry Harrison Hunter mined silica sand in Berkeley Springs and entered a sample in the Chicago World's Fair, winning a blue ribbon and medal of excellence for its quality.
Frederick Mayor Randy McClement said U.S. Silica was interested in how it could be more involved in the community through nonprofits.
"They wanted to participate in the city's activities, our special events," McClement said. "And in county events as well."
Click Here to link to story.