June 9, 2014
U.S. Silica's main product is sand used in building and painting materials.
For Dave Murry, vice president of talent management and chief human resources officer, it made sense for employees to help fix up a house for Habitat for Humanity.
Murry led 27 employee volunteers from the U.S. Silica corporate office in Frederick in the project. He said sand is used in paint, cement for walkways, roofing materials and glass for windows, among other building materials.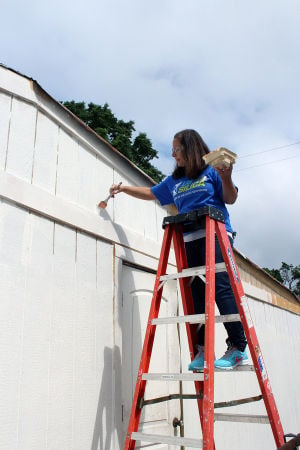 Alison Holder was one of 27 volunteers from the corporate office of U.S. Silica to help fix up a house in downtown Frederick for Habitat for Humanity.
The project was the first of its kind for the corporate headquarters of U.S. Silica since it moved to Frederick a few years ago from West Virginia. Alison Holder, spokeswoman for the company, said the firm participates in similar community projects at its 19 locations around the nation.
"We emphasize four key areas," Holder said, "environmental stewardship, safe and responsible operations, building strong communities and ensuring a legacy. We believe strengthening our relationships in the communities where we live and work is what sets us apart as a company."
Holder was actively involved in the fix-up of the house in downtown Frederick. She brought Shelby Geraci, an intern who had just finished her first week at U.S. Silica, to help out.
"I was proud to actually show Shelby how we bring our core values to life at U.S. Silica," she said. "One of U.S. Silica's core values is to operate in our communities as good neighbors. Telling a new hire that is one thing. Demonstrating that over the course of the day is another."
Besides the physical fix up of the house, Murry donated $1,000 to Habitat for Humanity Frederick County to help with the cost of materials.
Ron Cramer, executive director of the local Habitat for Humanity, commended the U.S. Silica team.
"Right from the start of the morning we knew that U.S. Silica team came to make a difference," Cramer said. "It is so heartwarming to see a company who cares about Frederick, our neighborhoods, our community and the people who live and work within."
 Click Here to link to story.